Home
Photo Gallery
Rates & Reservations
Map
Contact

Welcome to Hotel Larry's Place!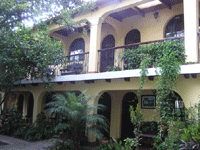 Hotel Larry's Place is a charming new hotel built in 2000. We offer travelers an affordably-priced, modern and comfortable place to stay in the heart of beautiful Panajachel, Guatemala.
Hotel Larry's Place has single, double and triple rooms available. All rooms have private bath with hot water. We offer free parking to our guests, an all-night security guard and a pleasant guest lounge where you can enjoy television, complimentary coffee, water and tea and selections from our small lending library.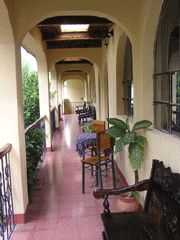 Our beautiful gardens invite guests to relax and stroll. You can enjoy your morning coffee on the terrace in front of your room or admire the stunning volcanoes that are our backdrop.
We are located in a perfect location in Panajachel. Nestled on a lovely, quiet street, Hotel Larry's Place is just steps from the town's main strip, Calle Santander, where you can find shopping, restaurants, night clubs and a quick 5 minute walk to the magnificent waterfront of Lake Atitlán. Travelers from around the world agree that Lake Atitlán is one of the most breathtaking spots on earth. In fact, Lake Atitlán has recently been nominated as one of the New 7 Wonders of the World!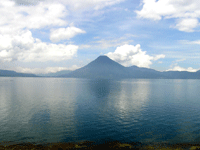 Hotel Larry's Place is the result of a family dream and we invite you to come and enjoy the beautiful sites, the gracious hospitality and the spectacular year-round weather in a place known as the Land of Eternal Spring.
The Comforts of
HOTEL
LARRY'S PLACE
Singles, Doubles and Triples
Clean, Comfortable and Affordable
Private Baths with Hot Water
Free Parking
Tranquil Gardens
Ideal Location!